This small lamp is ideal for using on your sewing machine, you can direct the light exactly where you need it most. It is easily mounted on the side of your sewing machine with Self-Adhesive stickers and has a removable mount.

The Daylight LED's provide high contrast and accurate color matching, making it easier and less tiring to work and see detail clearly. LED's never need replacing and use very little energy. The light is powered by AC adapter.


Key Features
Ultra bright focused LED light
Long 7" Flexible Arm
2 Self-adhesive mounts fits most sewing machines
Lamps clicks in and out of mount
Supplied with 2 mounts allowing you to use in multiple locations
Non Magnetic
Powered by AC Adapter
3 cable clips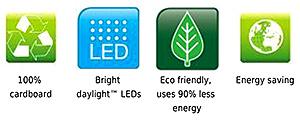 Technical Information
PACKAGING INFORMATION
Light source: LED
Lux output at 6": 17000 focussed Lux
Lux colour temperature: 5,500 - 6,500°K
Energy consumption: 1W
Product dimensions: 1.4" x 0.9" x 9.8"
Maximum reach: 9.1"
Product weight: 0.462lb
Cable length: 94.5"
PRODUCT INFORMATION
Assembled Width: 58cm (23")
Assembled Height: 50cm (19½")
Assembled Depth: 60cm (23½")
Assembled Weight: 1.92kg (4lb)
Length of cable: 1.75m
Main color: white
LIGHT OUTPUT INFORMATION
Light source type: LED
Total wattage: 21W
Color temperature: 6500
MACHINE NOT INCLUDED!!