Antelope Canyon

Laurie Shifrin Designs - 74 1/2" x 74 1/2"


Aunt Philly's Oval Toothbrush Rug

18"x 36" with Toothbrush Needle


Autumn - Four Seasons

Jane Sassaman design - finished dimensions: 18" x 18"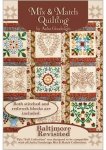 Baltimore Revisited

Mix & Match Quilting by Anita Goodesign.


Bee Buttons

Just Another Button Company - #9920


Celtic Diamond

Kwilt Art Designs - finished size approximately 68" x 45"



Out of Stock
Chenille By The Inch Basil

100 Linear Inches of Basil Chenille


Christmas Trees

Aunties Two Patterns - Large: 16" x 7", Small 8 1/2" x 5"



Out of Stock
Come To Bed Frosty, I'm Cold Machine Embroidery

Chickadee Hollow Designs Snowlady


Confetti Holiday Chalkboard Pillows Embroidery CD

Machine Embroidery and Fusible Applique


Convex Illusions

Kwilt Art Design - finished size approximately 60" x 60"


Creepy Cocktails Embroidery CD

Sealed with A Stitch by Susan O'Very



Out of Stock
Dakota Towel Toppers & Matching Scrubbies

Dakota Collectibles Embroidery CD with 15 designs for 5x7 Sewing Field.


Donut Wrap

Two Chics 'n Stitches design



Out of Stock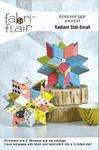 FabriFlair Kit/Radiant Star - Small

Dimensional paper piecing kit - Small


FIBER ETCH

Kit includes: Scarf 14" x 14" Pattern, Stencil Paper, and Instructions.


Finger Light

Comes in miscellaneous colors.


Floral Fun Embroidery CD

Floral Fun by Stitchique and Janome


Frosty Friends Candy Cane Holders CD

Pickle Pie Designs - In the Hoop



Out of Stock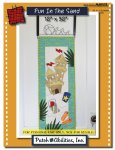 Fun in the Sand

Patch Abilities Inc - #8 in a 12 pattern series


Funky Flower Table Runner

Hatched and Patched Design - Finished size 15" x 57"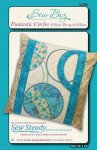 Funtastic Circles Pattern

Sew Biz design - Pillow Wrap and Pillow - 16" x 16"


Glitz Christmas CD

OESD - Glitz Christmas CD - Signature Pack #12220


Holiday Refrigerator Pen & Pen Holders

15 Dakota Collectibles Embroidery Designs


Jumbo Crochet Hook Size Q

US Q


Kangaroo Bluff

53" x 63"


Meadow Dreams Pillowcase

Susan Rooney pattern


Mod Cat by Colourwerx

53" x 64"



Out of Stock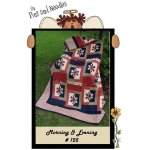 Morning & Evening Pattern

On Pins and Needles pattern


OESD Poinsettia Tiling Scene

OESD. Every Stitch Counts designs. 16 Designs compatible with a variety of hoop sizes.


Overlock Sewing Book

by Tove Fevang


Owl Greetings Embroidery CD

Owl Greetings by Stitchique and Janome


Patchwork Valentine Table Runner

Shabby Fabrics - Finishes 12 1/2" x 53"



Out of Stock
Perfectly Paisley

Kansas Troubles Quilters design - Lap quilt - 77" x 89"



Out of Stock
Phoebe Applique Flower Pattern

Laura Heine pattern - 41" x 52



Out of Stock
Pinwheel Holly Wreath Pattern

Happy Hollow Designs - Finished size 24"


Rising Star

Kwilt Art Design - finished size approximately 38" x 40"


Round Robin Rebels Unite Patterns

Cut Loose Press


Row'n & Sew'n Pin

Row by Row Experience 2015


Serging Australia

Overlocking Artistry by Anne van der Kley


Sew Serge Press

Speed Tailoring in the Ultimate Sewing Center by Jan Saunders



Out of Stock
Signs of Spring

Patch Abilities Inc - #5 in a 12 pattern series


Star Power Pattern

Tracey Brookshier design - 60" x 60" lap quilt


The Anything Goes Bag Pattern

Lizzie B Cre8tive pattern. Handbag - 6" x 12. Tote - 12" x 12".


Three Easy Napkins Pattern

Rag Merchant design



Out of Stock
Tips, Tricks, & Techniques - Chenille By the Inch

with Chenille By the Inch Fabric Cafe


Trim the Table

Approximate Size: 17" round



Out of Stock
Turn Around Table Runner pattern

Poorhouse Quilt Designs - Designed for minimum 40" wide fabric


Wish Upon A Star

Kansas Troubles Quilters design - 80" square Lap Quilt